Shomberg's Ima Keeper Too ("Timber")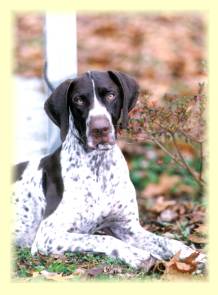 Sept. 11, 1995-Oct. 13, 2005
In tribute and love to Leesy and to
Shomberg's Ima Keeper Too,
our dear and beloved "Timber"
| | | |
| --- | --- | --- |
| | | |
| | click on image to enlarge it in a new window | |
| | | |
Shomberg's Ima Keeper Too ("Timber")
(Ch. Shannon's Hearts Afire x Ch. Shomberg's Feather Duster)
Bred by Steve and Sharon
Owned, loved and adored by Leesy McDonnell
~~~~~
Timber was my special boy. The day he was born he crawled across the
whelping box to where I was sitting and looked in my direction even though
he was too young to see or hear. He had me hooked right then and there.
Timber would get all squinty eyed when you would tell him how great he was
and the corners of his mouth would curl up into a smile. He had a short show
and agility career because of having to have cruciate surgery. Then this
spring he had spinal surgery and extensive rehabilitation. Last week it all
caught up with him and he couldn't walk anymore and the time to say
good-bye was here.

The house seems so empty without him even though there are still 2 happy
German Shorthairs sharing the bed. There will never be another Timber. My
heart is aching and I wish I could still give him a hug, but alas this will
have to be in my mind.

Good Bye Sweet Timber.

Leesy McDonnell
Frederick, MD
www.snowyriver.com
~~~~~
It is with great sadness that we share with you the passing of a very special dog and the heartache it brings to our dear friend and breeder, Leesy McDonnell of Snowy River GSPs.

She had to make the ultimate sacrifice and allow her "Timmy" to go back to his heavenly home on Thursday, October 13th. One is never prepared for this no matter how much we feel we'll be ready when the time comes. The past months, spinal surgery and the rehab that followed allowed she and Tim to have more time and that was such precious time indeed. Leesy made every moment of every single day count for both of them.

Our dear friend, Leesy, loves her dogs like few we've ever known and they are truly her "family." No expense is ever spared, no effort is ever too much and every day is built and lived around the care and unquestionable love for her beloved GSPs. She is heartbroken as you surely understand all too well because you share in the love for these wonderful dogs.

We want to pay tribute to Leesy as much as speak of Timber because he has crossed over and is well again and she is left with unbearable grief right now and needs the words and your sentiment even more.

Leesy made every effort on Timmy's behalf and allowed him to have a full and happy life. For any shorthair the ability to walk, to run, to play and move without pain is about life as it should be. And when that can no longer be done with comfort then it is our soul's struggle to make the choices that will once again allow them to be free of that pain and discomfort. Sometimes the spirit and the heart of a dog far outreaches the limitations placed on the body and so it was with sweet Timmy. Knowing that we've made the right choice is somehow little consolation when that spot on the bed is so empty and that special boy no longer sleeps beside you but rather rests in the lap of God.

Special thoughts and special love is given to our dear friend because she found the strength to say goodbye to one of her dearest. It won't be forever, Leesy, because we know you share in the belief that we'll see them all one day again and share in the licks, the cuddles and the never-ending spins of joy we've come to know. But for now -- it is so very hard to see it happen and know the loss and missing of that loving brown face and wet nose.

God bless you, friend, for your selfless love.