Ch. Sonnenschein N Shomberg Extra Extra
"Nash"
(BIS/BISS Ch. Lieblinghaus Chief Executive JH CD
x
Ch. Sonnenschein's Frozen In Time)
Bred by Barbara Booher (Sonnenschein GSPs)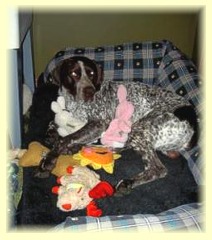 Nash has found himself wonderful new "parents" who adore him and shower him with love, affection and more toys than any dog could want.

His new home is with Terry and Wally Schlepper in Ohio where he enjoys a beautiful home and a huge expanse of ground that he can patrol for those wary deer, rabbits and groundhogs that dare to venture onto the property. The added bonus is that he is only a short distance from Barb Booher, his breeder, so that she too is able to keep up with his adventures.

Nash is greatly loved and cared for and we are thrilled that he now enjoys a wonderful life with Terry, Wally, their daughter and their very tolerant cat. He fills that space in their hearts that was the result of losing their other beloved shorthair last year.

On September 20, 2003, Steve and Sharon welcomed Nash as a new "family member" at SHOMBERG. We feel that Nash's reason in coming here as a puppy was to help us through the unbearable heartache of losing our dear Marco. And now this "healer of hearts" has gone to do the exact same thing for Terry and Wally. What a treasure is our beautiful Nash Man!