In loving memory and tribute to our beautiful and much beloved

Shomberg's Little Bitte Love "Bitte"

(Ch. Shannon's Hearts Afire x Ch. Shomberg's Feather Duster)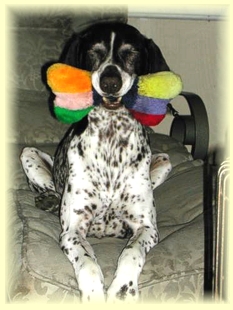 September 11, 1995 - November 4, 2006
"Bitte will be so truly missed and has always been an adored member of the Parks family. Steve and I will so miss all of our family get-togethers at Stu and Shelly's with Bitte relaxing on her chaise lounge as she loved to be a part of every family occasion; the tales of her squirrel chasing always the topic of many stories and great laughter. And now this great sadness shadows our day and is shared among all of us but is most assuredly borne by those who loved her most dearly every day of her life -- Stu, Shelly, Nicole, Rene' and her canine family, Hattie, Raisin and Midge."