Photo Gallery from the
2002 German Shorthaired Pointer Club of America National Specialty Show
Austin, Texas May 22 - 25, 2002

Page 1 | Page 2 | Page 3 | Page 4
click any image for larger view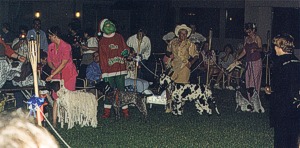 Adult Handling is always a crowd pleaser and is a spoof on the "art" of showing dogs. It provides some much needed levity and a break during the days of serious competition. This year it included not only the renowned "Pointer Sisters" ( Patty Crowley, Nancy Conrad and Sharon) but also Gandhi (Joe Diaz), the Grinch (Donna Taylor) w/reindeer and sled, a cowgirl (Ann Carter) w/her uncontrollable steer, a patriotic "baby" in a red/white and blue diaper (Don Schwartz), a lady handler (Michael Simberlund) w/ his dog (daughter, Jordin in a dog suit), a spoof on "double handling" by Brenda Abrahms, and a complete demonstration on comedic ring procedure by Jean Persia with her multi-titled obedience champion. Still more ... that I might have missed.

The Pointer Sisters.




Joe Diaz looks more like Ben Kingsley than Ben Kingsley. Ever see Gandhi light one up? You have now!


Sharon with Becka.

Left: Peggy Roush,
right: Sharon with Becka.


Sharon with Becka.

Patty and Sharon ringside as Alice Finley-Richter prepares to move her dog.


Tina with Crayola.

Patty and Monroe at "Top 20."

Patty and Monroe at "Top 20."

Marty and Haley "together again."
Marty Cornell (ElwingGSPs) with her beloved Ch. Shomberg Elwing deLiverence ( aka, "Hailey").

Page 1 | Page 2 | Page 3 | Page 4