"Bebel"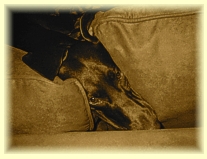 "In loving memory of David Triunfol. Your sweet Bebel and all of us miss you so much. Be well, be happy and wait for those who cared for you in this life
until we all meet again."
Your dearest Marcia, Bebel and Moby -- and friends, Steve and Sharon.

"Triscuit" in her new home with David & Marcia Triunfol, of Washington, DC. Triscuit's new name is "Bebel."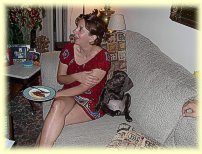 "I keep trying to cross my legs like Mom but I can't seem to get the hang of it."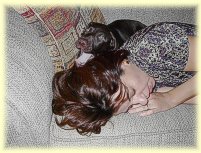 "Mom and I like hang out on the couch and sometimes we even .....(ya-a-a-awn) take naps together too."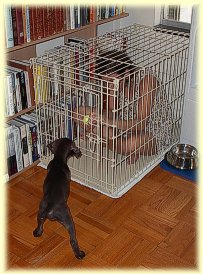 "Hey Mom, watcha doin' in my crate ? I thought that was where *I* was supposed to sleep !"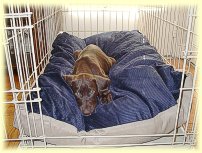 "Well, playin' with mom and dad just wears me down and I hafta catch up on my beauty sleep here in my crate. Whatta "pad" !!! "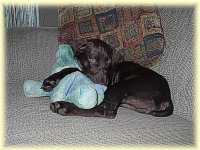 "Now....am I not about the cutest pup you've ever seen ??"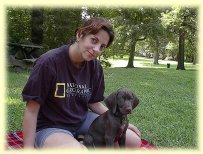 "This is me and my Mom. Her name is Marcia and she loves me sooo much".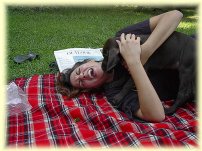 "Okay, Mom, now we have picnics and faces get messy so I hafta clean you up. Laughing only makes me try harder to get every speck of food off your cheeks."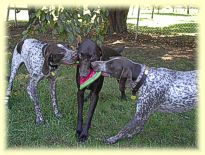 Mid-Atlantic Rescue Get-Together found many new rescue dogs and their families enjoying an afternoon of fun and sharing stories while the dogs played...and played.

David & Marcia's "Bebel"
(from our 2001 litter) joins in a tug-o-war with 2 new found friends and as always, she is center stage!
Bebel now shares her home with David & Marcia's rescue boy, "Moby" and they have become inseparable companions.
---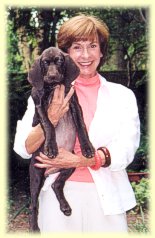 "Sesame" in her new home with Toni Demaine, of Virginia. Sesame is now called "Skye."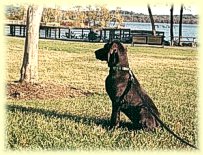 "Mom takes me walking every day and we visit the park. I just love to watch the activity by the waterfront. Naturally everyone who sees me wants to make over me and love me. It's a cross that I must bear.......being so beoootiful!! Everyone just wants to touch me so, I oblige. Mom just says I'm terribly "spoiled." Ya think so??"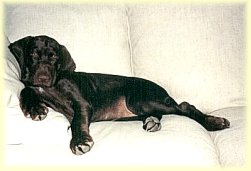 "Hello there. My name was Sesame when I was just a baby but my new mom, Toni, has changed my name to "Skye." It has a sort of etherial sound to it.....don't you think? I live in VA now and travel to NYC occasionally with my mom and we visit the grandchildren who love me to pieces."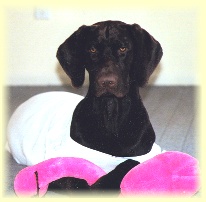 "Skye wears mom's t-shirt and looks every part the "princess" that she knows she is." Skye owns Toni DeMaine of VA.


Skye with her "brother" Kent playing ping-pong, "hey.....my serve !!" Did we mention that this breed is very versatile??

---
"Colby" (now called Woody) in his home with his new family in Charlotte, NC.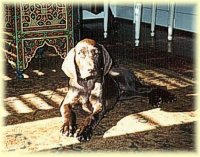 Colby - - now "Woody" relaxes in his new home in North Carolina, where he is loved by his new "kids."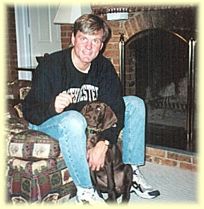 "Here I am with my new "dad." I have many new dog friends to play with and I love livin' life here in the 'Ol South, where things are easy and relaxed. You'd never suspect that I'm originally a Yankee, would ya?"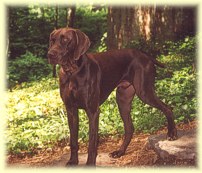 Woody about to run down into his woods.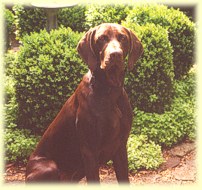 Woody (was Colby) sitting proudly in front of his "English Garden."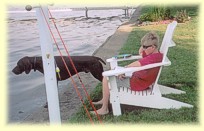 Woody
(aka, Colby) 2003.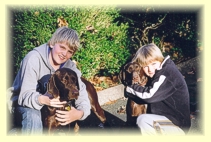 Woody & Libby with family.

---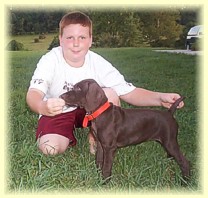 "Ali" ( aka, "Butter") who is owned by Sid & Debbie Steelman and family. She is shown with Grant, who has aspirations of becoming a show handler and is working with Ali to achieve this goal.
---
"Wheat" at her new home with Janet, Kyle, Taylor, and Caitlin Simpson, of Virginia. Wheat's new name is "Sadie."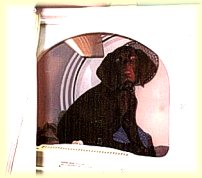 "Well........don't laugh !! I found out this thing they call a clothes dryer can be real warm on a chilly day. Ya just hafta climb into the darn thing before it cools down and mom sees ya."


"Sadie" and Caitlin.
"Here ah yam just lyin' around with my new "kid", Caitlin. Ya might remember that she drew that nice set of pictures for the website and she draws real good. She and me are just the best of friends and ah love hangin' out with 'er. "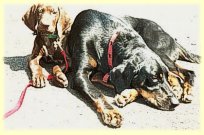 "Sadie" and "Suellen."
"Here I yam with ma new buddy, Suellen. She's one a them big 'ol black'n tan coon hounds but ah don't say nuthin' cuz she puts up with me and I can be a real pistol when ah get goin' ".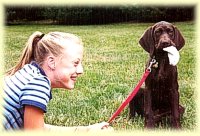 "Sadie" and Taylor.
"All ya hafta do to entertain Taylor is hold a sock in yer mouth. She thinks I'm really funny and ah love ta make her laugh".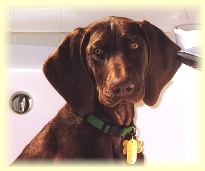 "Sadie (formerly Wheat) sits in mom's bathtub waiting for her beauty regimen, though she knows it really isn't too necessary. Janet-Wright Simpson of VA handles the beauty and bathing rituals for Sadie."
---